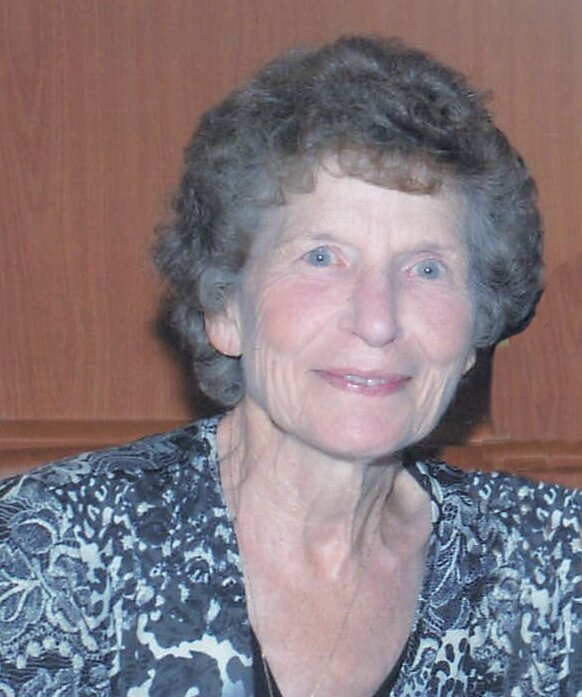 Obituary of Mary Emma Ikert
On Sunday, February 20, 2022, Mary Emma Ikert passed from the loving arms of her husband and family to the loving arms of her Saviour. She died peacefully in the Brooke-Alvinston home where she and Walter raised their family and cared for their own parents.
Mary was born in Essex on March 11, 1933, the youngest of Annie and Ben Howson's seven children. Mary is survived by her sister Grace (Jacob) Fehr and predeceased by siblings Enos (Ruby), Herb (Pat), Fred (Alma), Olive (Arnold) Dohms and Wes (Violet).
After nurses training at Grace Hospital in Windsor, Mary married her sweetheart, Walter, in 1955 and moved to Inwood. In 1964 they moved to Petrolia Line in Brooke Township. In the years that followed Mary helped on the farm, kept a vegetable garden that supplied her household, sewed clothing for her five children, worked at various nursing jobs as well as enjoyed creative expressions like ceramics, upholstery and tole painting. Mary and Walter were long time active parishioners at Watford Pentecostal Church and Mary contributed by teaching Sunday school, playing piano, hosting bible study and prayer groups, preparing food and offering her legendary hospitality.
Mary's faith was first in her life, but family was a close second. She will be dearly missed by Walter, her beloved husband of sixty-six years; her children Colleen (Ben) Valuck, Evangeline (Daryl) Sader, Nathan (Kathy), Stephen (Patsy), Philip (Lorraine); her grandchildren Heidi (Jimmy) Rushton, Anson (Tamara) Valuck, Sam (Samantha) Valuck, Jayden (Kara) Sader, Alyssa Sader (Brandon Saada), Rachelle (Tage) Grauwiler, Karyn (Dustin) Font, Zack (Kristina) Ikert, Elise (Eric) Soepboer, Jennifer (Josiah) Newton, Heather Ikert, Robyn (Graham) Burt, Angela (Stephen) Coriell, Emma Ikert (Taylor Eisenbraun) and Olivia Ikert and great grandchildren Kaitlyn, Ella, Genesis, Lincoln, Rosalie, Everett, Rebecca, Josephine, Penelope, Mairéad, Walter, Evangeline, Mabel, Maya, Lucy, Grace, Lyla, Astrid, Alden, Peter, Eileen, Malachi.
In addition to family, Mary leaves behind some earthly treasures. She leaves behind a recipe for pot roast that smells like heaven and sixteen well used place settings of Old Country Roses china because any day can be a special occasion.
She leaves behind a closet half full of clothing, all either purchased on sale or at a thrift shop, that she could put together to look like haute couture. The closet would have been full but if you spoke your admiration for an item, she would insist on giving it to you.
Mary leaves behind two freezers three quarters full of garden produce, homemade meals, home baking and bread that was on sale. The freezers would be full except that no grandchild left the premises without a care package. In one of the freezers, there is a pie that is soon to be designated a national treasure.
Mary leaves behind a home where children running and playing were more important than any belonging no matter how costly and her seat at the nightly all comers game of "cooperative scrabble". She also leaves behind a magical kitchen in which she could whip up meals for two to twenty, sometimes with nothing more than thirty minutes and thin air.
Most importantly, Mary leaves behind the fruits of her and Walter's faithful prayers and an example of what it is to be a Godly woman.
A private family Funeral Service will be held at DENNING'S OF WATFORD on Saturday, February 26th, 2022. For livestream details, please click here. As an expression of sympathy, donations payable by cheque to Teen Challenge Canada, YWAM Hope Village Project YB17 or YWAM Doug Sharpe SD02 would be appreciated by the family. Share a memory at www.watfordfuneralhome.com.
Share Your Memory of
Mary